Wolves, Witches & Warbands - An Otherworldly Bealtaine Pilgrimage Through Ireland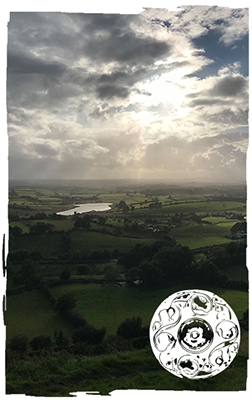 Ireland was once called "Wolf Land", for the wildness of its landscapes, its woods, caves, and glens teeming with packs of wolves called mac tíre, "son of the land". The Fianna warrior bands prowled these landscapes too, between settled lands and wild, living on the land by hunting, raiding, and fighting. Warriors in Ireland have long been called wolves, and some have been known to practice shape-changing, putting on wolf-skins and stalking the landscape in the forms of mighty wolves, taking shelter in its dark caves and hunting by twilight. Here too at these borderlands, we find these caves and glens haunted by witches and fairy women who may bind and entrap with a weaving of enchanted cords, who may curse with a chanted spell, or who may heal with a wise potion. This is the untamed Ireland we seek to explore in this pilgrimage.
Our ritual cycle for this pilgrimage is built around an Otherworld journey following the folk belief of a hidden pathway connecting the Cave of Cruachan at Rathcroghan with the Caves of Kesh Corran in the Bricklieve Mountains. This journey will take place centering around the liminal tide of Bealtaine, a time when witches are abroad, spirits walk, and cyclical battles are fought between the worlds of the Síd and of the living. Our pilgrimage ritual cycle will entail deep encounters with Otherworldly forces, meditations with the living landscape, a celebratory Bealtaine bonfire, and a ritual feast, along with free time, workshops and classes, and more. We will be working under the protection of the Morrígan and with Her forms of wolf, eel, heifer, and crow, and our devotional and spiritual work will also include: Badb, war goddess and Otherworldly hag; Queen Medb, ruler of Connacht and initiator of warriors; Finn and the Fianna warrior ancestors; Cormac and the wolf spirits of the caves, and the witch goddess Cailleach.
This pilgrimage is offered jointly by the Coru Cathubodua Priesthood and Land Sea Sky Travel.
"This cavern is said to communicate with that in the county of Roscommon, twenty-four miles in distance, called the Hellmouth door of Ireland at Rathcroghan, of which is told (and believed in both counties) that a woman in the county of Roscommon having an unruly calf... he tried to escape and dragged the woman, against her will into the Hellmouth door; that, unable to stop him, she ran after him without quitting her hold, and continued running until next morning. She came out at Keshcorran, to her own amazement and that of the neighbouring people."
– -- Memoir of Gabriel Beranger
"The wild, clear note of the battle-march, the dord fiansa, played by the drooping hands of slain warriors upon the points of broken spears, low like the echo of an echo..."
- Eleanor Hull, The Talking Head of Donn-Bo
Hospitality Statement
Land Sea Sky Travel holds in highest regard open mindedness and hospitality. As such, we have a zero tolerance policy towards racism, religious intolerance, sexism, transphobia, ageism, ablesim, homophobia, and all other forms of discrimination.
We strive to hold safe events, both in person and virtually via our many social media sites. If you ever encounter any form of harassment, or feel unsafe in our community, please reach out to Vyviane immediately or any other member of staff if necessary.